August 13th, 2023 - $10.00 per person attending the event. ***
A dish or dessert for the buffet table appreciated.
Tournament fishing hours will be from 8:00am - 1:00 pm. You may start later, or quit early if needed.
You may fish from a boat or from shore.
7 categories: Walleye, Northern Pike, Perch, Carp (sucker), White Bass, Trout, & Bass.
Added prizes for all kids. All entry fees are used for added prizes!!!
Come join us where good times, good food, good friends, and good fishing will be taking place for a great cause.
Any questions, or volunteering to help in anyway or to pre register call Tom Means (814) 362-1423.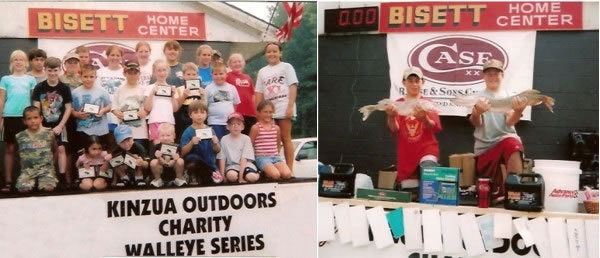 KIDS TOURNAMENT SPONSORS
Corporate Sponors
Northern Tier Inc. Foe # 2432 Bradford Fraternal Order of Eagles Glenn O Hawbaker
Phillips & Dart Oil Field Service
Gold Sponors
Bob & Nancy Stewart Dick Moore Philo and Sarah Blaisdell FoundationHamlin Bank Northwest Savings Bank Prizel's Pharmacy
Smith Brothers Plumbing & Heating Co.
Friends of Kinzua-Outdoors
Contributing Sponsors
Charlie's Cycle Center

Randy Shine

Topp's Market

Jesse Nussbaum

Burger King

Dairy Queen

McDonalds

Pizza Hut

Little Ceasers

Holgate Toy Co.

Pepperell Braiding

Napa

Gander Mountain

Sportsmen Outlet

Case Cutlery

Hook – Line – Sinker

John Williams Pastry Shop

MG Industries ·

Wives / Girl Friends / friends & family

Smiths Awards
Thank you one and all!!!